Power cuts (so, no internet either), being, going and coming. The usual. =)
A bit more of my mother's birthday. So, we kids arranged a weekend in a spa hotel with a family dinner. Ruissalo was sunny, warm and beautiful, though a bit windy. Great day for a celebration.
'Cos of the wind we gathered inside, in a lobby to wait untill everybody was there. Not easy to get us all together these days when the youngsters are living on their own all over Finland.

Shampagne for a starters.
Then outside for a group photo. It wasn't too warm, as you may notice of the clothings, but we did manage. This photo was taken by my younger brother (last on the right). Though the camera was standing on my camera holder (part of the glory belongs to me then, doesn't it? =) ). Three generations of my mom's family together, with spouses.
Then it was time to eat. Celebration buffet started with another glass of bubbly one.
Didn't get a good shot of the food, 'cos of the light and other people, but we had our own cake as a dessert.
Yummy! Some of us stayed over night and there was a dance going on in the evening, but some of us had to go home and take care of the pets at home. Surprise, surprise. ;)
Wanted to knit owls and had to try several different patterns first, 'cos I didn't have any instructions. These look more like the Japanese Totoro than owls, but didn't want to undo them either.
Eyes are old hair clips.
Then from Saturday to Thursday evening our son's cats were here. Jekku...
... and Tuittu.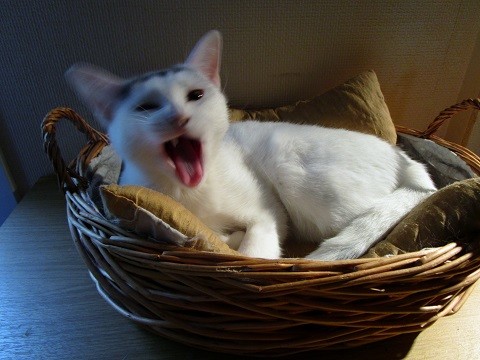 And when the furry visitors went to their own home, our cats were calling them and trying to find them still. Took a day for them to give up. Older cats do not play with the younger ones, but they follow each other much, still. Good change for our normal daily routines. Cheers up everyone.
Yarnballs as eyes, before we went shopping for beads.
Without any eyes these owls doesn't look like owls at all.

Changed the "Totoro" pattern a little (head) and it looks a bit more of an owl.

Flowers inside still blooming.
A soft owl I got from a friend found it's way in the livingroom. Safe from the pets and surrounded by other owls. =D
There was a time when I didn't quite know what to do next. Knitting? Crocheting? So I crocheted a few pot holders. Quick to make and got off with some leftover yarn as well.

Quite fun to try different patterns on these pot holders, too.

My first beanie in a really, really long time. It was so small, I wonder if it would fit a head of a newborn baby. Didn't want to undo it either, so it's kind of a decoration now. Don't know what I will do with it in the end.
Then a new beanie, a bigger one. Fit for an adult.
And mittens to go with the beanie.
Yesterday's shopping was great fun. I seldom get my hubby to come with me, but now he suggested the whole thing. Well, there was something he also needed (new shirts for example) and we also shopped a new multifunction printer for my firm at the same trip. He knows better all these technical equipment, so let him be in charge of these things. But I found something for me, as well. Can't wait to use this owl form.
Wood pearls and stuff from the handicraft's shop. I was quite proud of myself not to have bought more. There were A LOT of interresting and practical things the whole shop full. ;)
And still there's room for more pearls if I find them cheap.
A bit of rain, but mostly sunny and cool. Winter is clearly coming. Fireplace keeps the house warm without any more heating still. Autumn colours are yellow this year, again. Wondering where the red is hiding these days? But enjoying life, every day.