Trying to sort things in separate postings a bit. Here's happenings mostly. From the last three weeks.
My hubby is in China, will be this week still and then comes home for his summer vacation. He's in Suzhou, but visited Shanghai with his colleagues last Saturday. A lot of pollution in the air, and weather is much cooler than normally at this time of the year.
Before Mid-Summer we were on the Confirmation of our dog-daughter in Tarvasjoki. Their dog was on her own fenced yard and their cats in the cathouse made out of old playhouse.
It was a warm day and even the cats liked it in the shade.
No wind to show the flag in the pole.
Presents and cards with nice memory poems in them.
Still keeping funny weathers. Sunny and really warm at times, then suddenly change in the air and it's raining - and thundering a lot, as well.
Hail, water coming out from the skys in turns.
Playing cards and having fun.
With our furry ones, as well. Fix and Susu here.
Jekku in the window upstairs.
Grilling time.
Tuittu found the best place.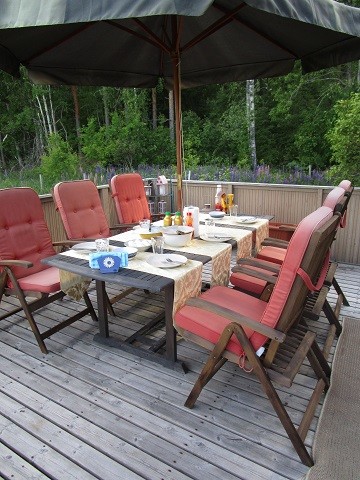 Eating outside on Saturday evening. Luckily the weather was nice enough.
Got our stomachs full! =D
Fix and Jekku playing on our bed.
Tuittu looking at Fix and her doings on the bed.
Mustis got a nap in the living room.
Jekku has her own fun with a play stick. Kadi is wondering what that means...
Tuittu is a bit shy and keeps the way to the safety (our son's old room) clear when she moves around. More bold every day, though.
Fix is tired. <3